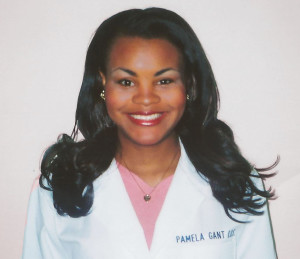 Dr. Pamela Gant is a native of Toledo, Ohio where she obtained her Bachelors of Science Degree from The University of Toledo.  Following her graduation, she attended The Ohio State University, College of Dentistry, where she obtained her Doctor of Dental Surgery Degree.  She then completed a one year General Practice Residency Program at the MetroHealth Hospital in Cleveland, OH.
Dr. Gant worked as a Dental Associate for several years before purchasing a private practice in the Clintonville, OH area in 2000.  Dr. Gant truly enjoyed her patients and staff.  However, after giving birth to her first child, she decided that it would be best to sell the practice and devote more time to her family.
Dr. Gant and her husband, Andrew Eribo currently reside in New Albany, OH with their three children.  Like most children, all three are active in lots of sports and have a natural zest for learning which has fortunately led them to excel in their academics.  Her husband Andrew is the Principal Shareholder at Ribway Engineering Group, Inc., a successful civil and environmental engineering and construction management firm in the Central Ohio area.
Between work and family, Dr. Gant's life has been full of many challenges and rewards.  During her career, she has worked as a Dental Associate in various practices in the Central Ohio area and has also taken part in Mobile Dentistry, a service which delivers dental care to the elderly who reside in retirement homes.  Other community service work has included providing dental care and education to the underprivileged  in the Greater Columbus and Cleveland areas.  These experiences have shaped her approach to providing quality dental care with the patient's best interest at heart.
Dr. Gant also enjoys being a member of The Academy of Contemporary Dentistry and The Greater Columbus Society of Contemporary Dentistry.  These organizations afford her the opportunity to stay current on continuing education and socialize with professional and business colleagues.
Dr. Gant has always maintained the desire to once again own a private practice close to the community she resides in.  She is a woman of sound integrity and character.  She is also very personable and approachable.  Patients are very comfortable with her style and approach to dentistry.  She truly believes in "treating each patient as you would your own family and providing quality dental care in a patient friendly environment".  Based upon her experience, this is the best way to gain a patient's trust and develop long lasting relationships with patients and their families.
Thank you again for taking the time to visit our website.  We would be happy to have you join our practice.  And remember, a healthy smile is always in style.